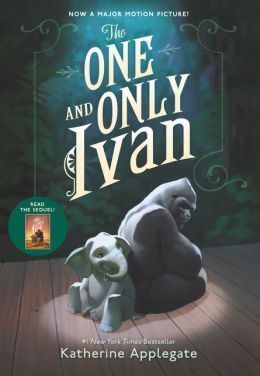 Newbery Award Winner
The One and Only Ivan
, by Katherine Applegate, tells the story of Ivan, a gorilla who has lived for years in a down-and-out circus-themed mall. One day, Ivan meets Ruby, a baby elephant that has been added to the mall, and he decides that he must find her a better life.
Who if your favorite character in the story? Why?:

Riley: Bob because he's funny and really small and cute and I love puppies.

Julia: Julia because she has the same name as me and she likes animals and art.

Abby: Ivan because you went through all of his emotions and you can go through his story with him.

Molly: I like Julia because she loves art and animals and she's really nice.
Natalie: Stella because she made the book emotional and made it better to me. She started the story.
Eva: I liked Stella because of how she took Ruby in as if she were her own.
Cecilia: I liked Ruby becasue she's small and cute like all of my cousins.
Hannah: I agree with Cece because she's so cute and tiny.
Kelsey: Ruby because she's a baby and babies are cute.
Hayden: I like Ivan.
Evan: Ivan because he's a gorilla like me.
Olivia: My favorite character was Bob because he's Bob.
James: George because he didn't listen to Mack and he wanted to help Ivan.
Who was your least favorite character?:
Everyone agreed that Mack was the worst character.


If you could change a scene in the story, which one would it be? Why?:

Molly: I wouldn't change a scene because the story is good as it is.

Eva: I would change how Stella dies. I would have her go to the vet first and get sent away.

Cecelia: I would change when Stella dies because it's too sad.

Abby: I would change where Ruby get stabbed by the claw stick. It made me not want to read more.

Riley: I agree with Abby. My brother told me that the book was sad and I didn't want to read more.

Natalie: I would change 2 parts: the claw stick and where Ruby has been chained on her way to the big top mall. I wish Ruby were happier in the beginning.

Abby: I would change where Stella had bracelets. To think that they chained elephants feet down was really sad.

Julia: I think that they should change how they had to be forced to balance a dog on their head. Imagine if someone forced you to have a person on your back.



Please rate this book from 1-5, with 5 being the best:
James: 4.75
Olivia:4.75
Evan:4
Hayden: as far as I've read, I'll give it a 4.
Kelsey:4
Hannah: 4.6
Cecilia: 4.5
Eva: 3.75 (I thought that it included a lot of stuff that didn't need to be there. Stella didn't need to die.)
Natalie:5 (I liked it a lot and I thought Stella's death made the story better. Also, I liked how the characters were introduced. I liked them a lot. The names fit the characters.)
Molly: 4.5
Abby: 4
Julia: 4
Riley: 4.83
The Grade 3-4 Book Club selection for November is
Brother from a Box
by Evan Kuhlman and illustrated by Iacopo Bruno. "
Sixth-grader Matt Rambeau finds out what it is like to have a brother when his father, a computer genius, creates a robot kid that goes to school with Matt, shares his feelings and ideas, plays, does chores, fights for his "life" when chased by spies, and becomes a part of the family.
" - summary.
Copies of the book will be available behind the Circulation Desk. Please remember to sign up for Book Club when you pick up your copy of the book.
NOTE: GRADES 3-4 BOOK CLUB WILL CONTINUE TO BE HELD AT 3 PM ON THE FIRST WEDNESDAY OF THE MONTH. WE TRIED TO MOVE IT TO 4 PM BUT THE CONSENSUS WAS THAT 3 PM WORKS BETTER FOR EVERYONE. PLEASE SPREAD THE WORD!!!