National Book Award Winner
Inside Out & Back Again
, by Thanhha Lai, takes place in Saigon and Alabama during 1975, the Year of the Cat. The story follows a family of Vietnamese immigrants from their war-torn homeland to a country so foreign from anything they've known. Ten year old Ha struggles leaving behind all that is familiar to her. This is her story.
In order to truly appreciate Ha's journey, it's important to know what Vietnam was like during the war. Thanhha Lai did an amazing job of that in her writing. Below are a few pictures of scenes that Ha describes in her poems, especially in the poem "War and Peace":
"people climbing, screaming,
desperate to get on
the last helicopter
out of Saigon"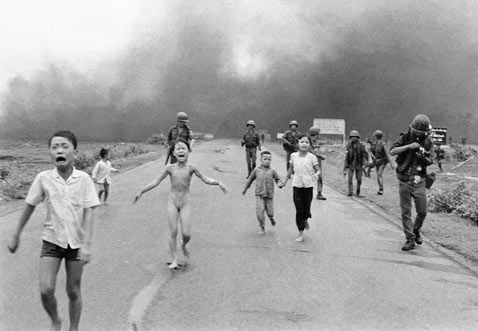 "burned, naked girl
running, crying
down a dirt road"
"papayas"
"Tet"
I can't wait to discuss this book with the first Grade 3-4 Book Club kids!
Who if your favorite character in the story? Why?:

Cecilia: I like Ha because it's really hard for her and the book shows how she survived.

Abby: Ha because the story is told from her point of view. It gives a lot of information about her. You fall in love with the story and with her.

Riley: I like Miss Washington because she helps Ha out with her schoolwork and is nice.

Eva: For those who said their character was Ha, most people have the main character as their favorite character.
Hayden: Vu Lee was my favorite character because he made the food.
Olivia: My favorite person was Vu Lee too.
Abby: I liked Pam.
What did you think about the bullying in the book?:
Cecilia: I didn't like the name calling.
James: I don't like bullying.
Riley: She was bullied because she was different.
Abby: There was someone who came to our school who didn't speak English. No one was mean to him. There was a girl who could translate for him and everyone tried to help him out.
How would you react to the bullying that they endured?:
Abby: I would tell the principal and tell them to stop. I would keep telling adults until someone did something.
James: I would get my parents involved and get them to stop the bullying.
Hayden: What if your parents were working?
What did you think of the Cowboy? What about Miss Washington?:

James: The Cowboy was my favorite character.


Abby: I thought he would have a horse.



Cecilia: Miss Washington was nice to Ha and her family.
Abby: If I saw someone struggling like that, I would try to help him.
If you could change a scene in the story, which one would it be? Why?:

Cecilia: I thought the leaving Saigon scene was really scary. I might not have that scene.

Everyone: I thought the father should have come home at the end of the book.

Abby: I thought the ending could have been happier. The ending could have been more conclusive. A lot was left in the air.

Eva: I wish you knew what happened to Ha's friends in Saigon. If they made it or were captured or killed.


Please rate this book from 1-5, with 5 being the best:
Eva: 4
Cecilia: 5
Riley: 5
Abby: 4
James: 4
Hannah: 4
Evan: 4.5
Hayden: 3.5 (because I didn't like how the neighbors threw books and were mean)
Olivia: 4
The main consensus for this book was that it was really well written and told an interesting story. A lot of the kids were sympathetic to Ha and all that she endured. All of the participants wished that they could meet the author and talk to her about her book.
One thing that was noted was that the kids were not familiar with this era in history. I told them a brief history of the conflict between North and South Vietnam during our discussion. It would have been nice for me to give them a primer before they started reading. Now I know that if we're going to read something historical, I might need to give a quick historical background.
The Grade 3-4 Book Club selection for October is
The One and Only Ivan
by Katherine Applegate. "
When Ivan, a gorilla who has lived for years in a down-and-out circus-themed mall, meets Ruby, a baby elephant that has been added to the mall, he decides that he must find her a better life." - summary.
Copies of the book will be available behind the Circulation Desk within the next week. Sign-up for Book Club will also be available.